Onion set Troy being planted
After a first-year now a second-year onion set
Troy onion sets are currently being planted under wonderful conditions. Less than two months after harvesting the first-year onion sets, they are now ready to start the second year. Due to the dry conditions, the soil falls nicely and the onion sets are sufficiently covered with loose soil.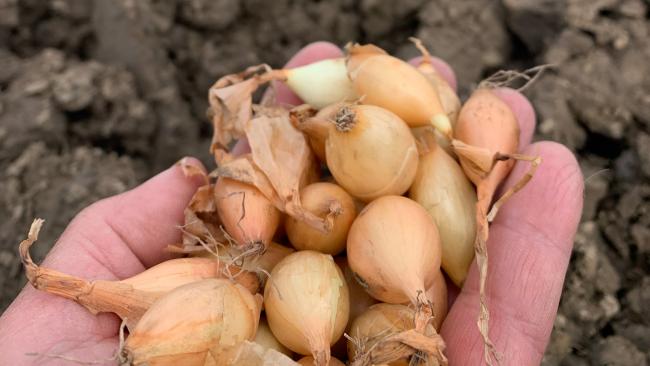 Troy is originally an onion set variety that is suitable for planting in spring. Due to the high genetic tolerance to bolting, this variety can also be planted well in autumn, so that fresh onions can be harvested in June!
Not only Troy but also Electric (red) has been planted. Electric is a real overwintering variety for the first crop. It is expected that this variety can be harvested as early as a week before Troy for direct delivery. Electric is the earliest red onion from the range to be planted before winter.

Important points to consider when planting overwintering onion sets:
The onion must have a decent growth under the ground. Foliage development is not very important in winter yet. The main thing is that the roots can develop well in the first stage of growth.
Make sure the soil has a good structure so that the onions are well covered. Loose soil is important so that the onions are enclosed and not directly exposed to potential threats such as heavy rainfall, severe frost, herbicides or wildlife damage.
Make sure that the plot is well drained and don't make the soilstructure too 'loose'. That prevents clogging. The onions are best planted two to three centimeters deep.
The distribution in the row should be as optimal as possible. That is why it is important to properly adjust the planter. Depending on the cultivation goal, between 17 and 21 onions are planted per linear metre. More plants per hectare means more earliness.