Broer B.V. drives the first pile for expansion to the Kleiakker
On Monday 7 September at 10:00 am, the first pile of the expansion was driven by Rene van der Thiel, (production manager location Andijk) who has been working at Broer BV for over 25 years.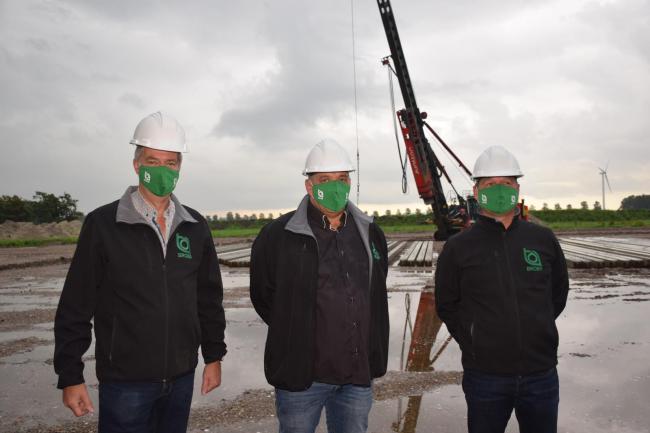 Broer BV is a company that has been located at Kleingouw en Kleiakker in Andijk since 1949. Specialized in 1st year onion sets. Jacob Broer was the founder in 1949 and this was later taken over by his son Frans Broer. Frans has further expanded the company and has started to focus on exports, particularly in Scandinavia, Eastern Europe and Russia. In 2004 Frans sold the company to the breeding companies Bejo Zaden BV and de Groot en Slot. In 2009 Siem Beers (general director) and Henk Jonker (director production) took over the tasks from Frans Broer and further expanded the company. For example, Broer now exports to more than 50 countries around the world. They are known for their good varieties and excellent quality.
Broer is the exclusive producer of the label "Quality inside" and this concerns the latest genetics from Bejo Zaden BV and De Groot en Slot for the professional onion grower.
Broer has also started the production, processing and sale of organic onion sets for the professional market. Together with the breeders, Broer has succeeded in creating new varieties that can be grown organically and are resistant to diseases and pests. Broer is therefore committed to sustainability with this step.
Because of this expansion in cultivation and processing for organic cultivation, among other things, Broer is expanding at the Kleiakker. A new sustainable warehouse will be built there, where the latest techniques will be implemented. In the long term, for example, a condense drying installation will also start running on the basis of a heat pump. A state-of-the-art sorting installation will be installed later, using optical graders.
With this expansion, Broer Andijk hopes, together with the establishment in Creil (Noordoostpolder), to lay the foundation for the further growth of the company. Broer now employs 17 permanent people, the majority of whom are in Andijk. During the season, many casual workers and self-employed workers from Andijk also work at Broer.